SHENZHEN HROSHI PRECISION INDUSTRY CO., LTD
Tel:+86-0755-29822028
Fax:+86-0755-29822558
Email:Hroshi@hroshi.cn
Address:2#, Nanjiang industrial Park,Tanluo,Dalang,Longhua,Shenzhen,China
Shenzhen City Chamber of Commerce leaders visit Yangshan
Release time:2016-03-17 19:12:18
On March 17, 2016, Shenzhen City Yangshan, President of the chamber of Commerce Wu Jianhong Mr. and Mr. long Huang Zhizhan board of supervisors Chairman Huang Jianbo Mr., executive president Mr. Mao Binggui, executive vice president Mr. Zhang Haijiang, Secretary General Huang Guowei Mr., office director Mr. Zhang Jianbo, Guangdong Province Sound Music Association Yang Weiquan teacher, guide enterprises to home abundant source printing general manager Wang Wei, the leadership of the 19 people to visit our company to visit the exchange, the general manager of our Liang Rongcan Mr., deputy general manager Mr. Liang Rongfang together personally enthusiasm reception.
Chamber of Commerce delegation visited the first division of the production plant, product quality assurance department, product exhibition hall, etc.. During the visit, Mr. Liang Rongfang, deputy general manager of the company's standardized management of the company, the overall operation of the situation, the software / hardware configuration, product design and manufacturing capabilities, and other aspects of a detailed introduction. General manager Mr. Liang Rongcan share the Hroshi from seeking survival, seek development, seek to do the difficult process of strong for each stage of the business; expounds the Hroshi after 10 years of development of settling down and forming the Hroshi simplicity, honesty, pragmatism, innovation unique corporate culture system, and Rong Shihai company future development strategic positioning and development goals.
Chamber of Commerce delegation to the general operation of the company, the competitiveness of enterprises have been given a high degree of recognition and praise.
Finally, the two sides on cultural exchanges, resource sharing, business development, the construction of the chamber of Commerce and other content on the interaction, and said it would further strengthen exchanges and cooperation.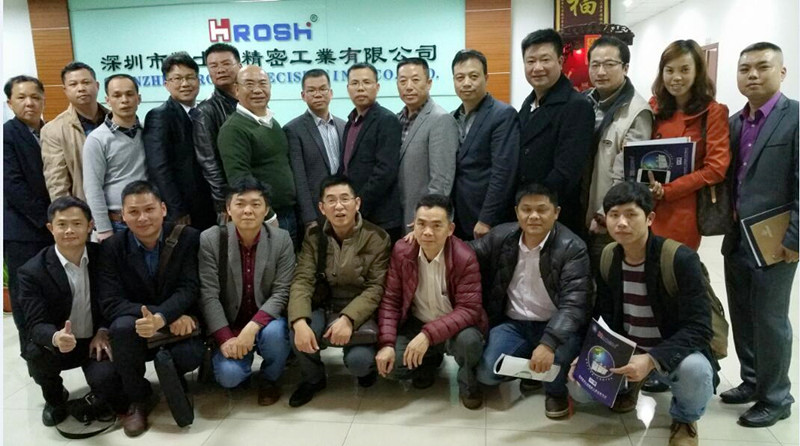 Post: The 2016-3-17 HROSHI Administration dept