SHENZHEN HROSHI PRECISION INDUSTRY CO., LTD
Tel:+86-0755-29822028
Fax:+86-0755-29822558
Email:Hroshi@hroshi.cn
Address:2#, Nanjiang industrial Park,Tanluo,Dalang,Longhua,Shenzhen,China
Friendship company basketball game
Release time:2015-07-27 20:15:16
For Chang and guide "team cooperation and work together Rong Shihai team culture, July 26, 2015, our factory industrial park basketball court in held the production / office a friendly basketball game, the game players to production staff and office staff. Both players are amateur basketball enthusiasts, usually also often organized a friendly match, so this game can be described as the strength of the equivalent, very worth looking forward to.
Start of the race in less than a minute, production team is with good passing team fit into the first goal of the game, 2 points; office team also unwillings to lag behind, the second minute break through heavy siege to grab the rebound tied the score at; both of you to I went to, refused to give on the sidelines of the cheerleaders who everyone excited for my team-mates refueling! Competition is fierce, race distance time with 10 seconds left in the, the two sides have draw score of 66 66, then both physical consumption larger, the attack rhythm is relatively slow, defensive, do not want their goal; in the key of 10 seconds, the production team get the ball, through team help file split, passing, breakthrough, three steps to the basket, the ball into the. The ball is in! When the whistle sounded, the end of the game, the production team by 2 points to win the tournament final.
The end of the game after the handshake photo, friendship first, competition second, Rong Shihai advocate "unity and cooperation spirit in the game are fully reflected, as we in the follow-up work in various departments to co-operation, good team cooperation with, the common good Chuang Jianmei Shihai homes in the great Rong!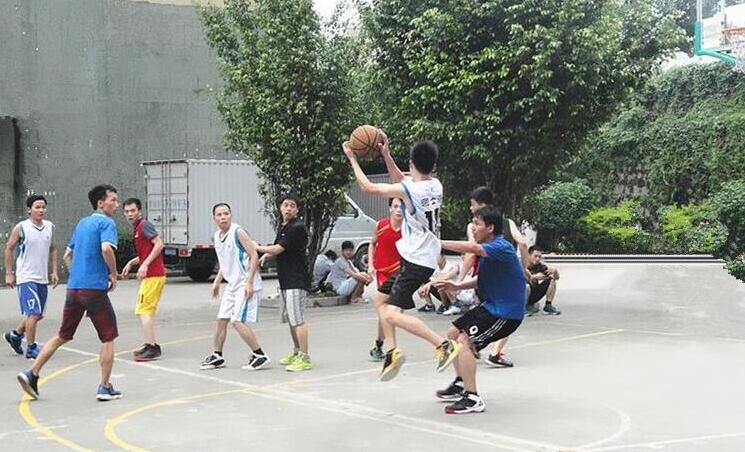 Post: the 2015-7-27 RongShiHai administration dept